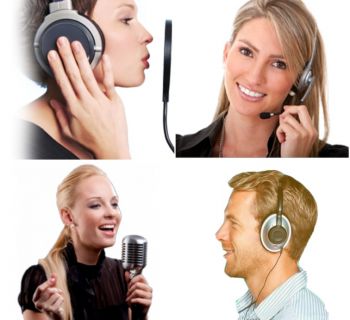 Chasing voices around the world
International borders are threatened by the shrinking world of the digital age. Some industries don't favour globalisation and the free trade movement. Other sectors including International Voice Over Talent Artists Online are already benefiting from "earth shrink".
We could argue all day on the pros and cons of globalisation and freeing-up trade. Our world leaders are busy posturing their positions. Posturing being the appropriate word when you match the righteous smirk of Donald Trump to that of Mussolini.
We owe the Web bigtime
We should all bow down and give thanks to the World Wide Web. The Web allows individuals to rise above politics and embrace the world on-line. A place where terrestrial borders are easily transgressed.
Today the borderless access of the internet means it doesn't matter where you are located. It could be New York or New Delhi.
The world-wide-web provides a TV producer in the remote areas of Afghanistan, Alaska or Australia an equal chance of locating a particular style of voice simply by searching International Voice Over Talent Artists Online.
Chances are Media Group, the business audio specialists, will be in the top results.
A major world player
The Media Group headquarters and studio complex is located in Nerang on Australia's famous Gold Coast just south of Brisbane.
From this base and offices in NZ, the company looks after clients In Australia and New Zealand, throughout the Asia Pacific region as well as Europe and America.
Media Group offers a vast selection of professional voice over artists. Experienced male and female talent from all age groups and most languages.
A world of choices in voices
The quickest way to find any particular style of voice is to head to the Media Group website. You'll find it easy to navigate and rewarding to search.
Audition voices on-line on your device. Search by gender, age group, style, and nationality. Hear real samples of the voices to consider.
When the choice is narrowed to one or a few, click on the button "free online quote".
You can confirm the talent's availabilities, book a recording schedule, determine if you need access to the Media Group library of Royalty Free Music and get together with one of the studio's engineer producers. Let the fun begin.
Tags: New Zealand Voice Talent Agency, Voice Over Talent, Artists & Actors, Voice Over Jobs, International Voice Overs Agency
Related Articles
---
Comments