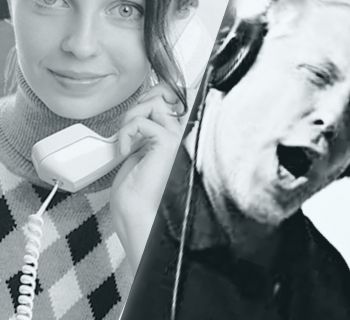 Don't get hung up
The phone rings. And rings. You're waiting. Still waiting. Silently hoping someone will pick-up. You're mind begins racing. You question "does this company care?"
Meanwhile, as patience thins, a crackly, halting voice comes on the line. The voice tells you what you have already guessed. Your call is not being answered.
Now things go from not too good to bleeding awful.
The estranged voice disappears and is replaced by an aural onslaught of chimed rubbish posing as music. This is the company's idea of putting callers put on hold.
Anytime this happens to me I can't wait to hang-up and call somebody else. Usually a competitor. If you're anyway near human you would react in a similar fashion.
About now you might be thinking surely this is an exaggeration. Unfortunately its everywhere.
However, this lackadaisical approach to reducing the number of callers who hang up instead of waiting on the line can be easily fixed.
A simple fix
The best way to keep callers from slamming down the phone is to entertain and amuse them with a program that combines appropriate music with well written and professionally voiced Telephone On Hold Messages.
If the subject matter of the messages concerns the company's products and services callers will be interested. They'll stay on the line a little longer.
More than just keeping the lines of communication open, callers will learn or be reminded of the company's current offerings.
They could decide on the prompting of one message to enquire about purchasing a new service or product.
Building loyalty
Callers will also be left with the feeling their custom is appreciated and this will further reinforce loyalty to your brand.
Suddenly your Telephone On Hold Messages are working on multiple levels to help grow your business.
However, not all On Hold programs are created equally. To have the best you need to work with the business audio specialists at Media Group NZ.
Make it happen here at www.mediagroup.co.nz
Tags: On Hold Message Script Examples, Telephone On Hold Message System, Creative On Hold Messages, Free On Hold Messages For Business, On Hold Message Recording, On Hold Script Ideas, On Hold Messaging Companies, Funny On Hold Messages
Related Articles
---
Comments