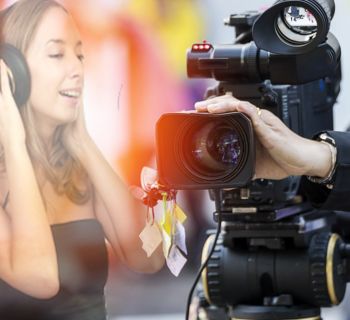 Customers don't listen or read much
Kiwis still enjoy a good read. Adults on average still consume 20 books a year. However success in business these days demands visual communications.
Customers want explainer videos on your website and a complete product demonstration on Utube. They expect organisations to have an introductory video for new recruits and virtual tours of plant and equipment.
Gone are the days of promoting a product or service using the "leaflet and press ad" method. People expect to see it and hear it.
In the times in which we live, video rules. Each week here in New Zealand people typically watch over 18 hours of broadcast TV plus nearly 6 hours of TV/video content online across all devices.
Appreciate that these figures are averages and we all know people who well exceed those numbers, however that national average still adds up to a whole day per week.
24 hours glued to a tube. It accounts for the continuous demand for business houses, ad agencies and producers to keep coming up with new videos.
In Auckland a vibrant city of 1.7 million there's constant need for scriptwriters, voice over talent, music and sound effects. So the pressure mounts on Corporate Video Production Auckland NZ.
A good video demands great audio
It could be a 3 minute explainer video shot on a phone and edited on a laptop. Or the company corporate video shot by a professional using the ants-pants in camera gear, great lighting and excellent props. A video presentation to woo the world.
However if the soundtrack remains second rate the video is destined to fail. Mostly it starts with the shitty voice over. This is no time for DIY. How producers still put up with rank amateur voice talent remains a mystery.
A few mouse clicks is all it takes to get access to an amazing choice of professional voice talent from Media Group. All those in and around Corporate Video Production Auckland NZ please take note.
Producers have the chance to listen to samples of each voice artist performing different scripts. The talent is categorised to make searches efficient and fast. Voices are classified by gender, age group, ethnicity or country and style of reading.
These are professional, experienced voice actors. They are capable of accepting direction to arrive at a delivery style that best suits the script. They are also able to self-direct where the situation or budget so dictates.
So before you embark on your next video production, large or small, make sure you get the best voiceover for the job. Head to www.mediagroup.co.nz
Tags: Auckland Video Production, Video Content Auckland, Video Production Hamilton Nz, Pure Productions, Picture Talk Productions, Video Production Wellington, Productions Ltd, Video Production Christchurch
Related Articles
---
Comments