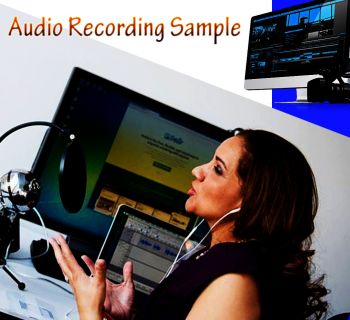 Take time to test the water
You're finally on holiday. The resort's lagoon-shaped pool looks so inviting. Do you dive straight in? It's probably not the best idea. How deep is it? Will your bottom out and crack your head? How cold is it?
You can't be expected to know the answers to these questions. But they should be relatively easy to ascertain.
Start with a toe test. If it's too cold you can slip back up to the room and get on your phone on the couch. No embarrassment, no chattering teeth, and dignity still intact.
Shelve the diving. Safety first demands you wade into unknown waters. No cracked skull, no ambulance ride and no loss of dignity or mobility.
Hear before you hire voice overs
It's a similar scenario when hiring a new voice over artist. After you've assured yourself and colleagues that you have identified a potential winner, you can do a toe test in the form of an Audio Recording Sample.
There's no rocket science involved here merely common sense. We will agree you are not risking a broken neck but the financial consequences and schedule disruptions could be severe.
At media Group NZ we have one of the best systems for identifying the best voice for your project. We have designed it to be as foolproof as possible.
Click or tap into success
On the website you can start your auditions for the voice over artist you need to hire by listening to recordings of work done previously by the artists.
You will find there is a very large selection of male and female professional voice artists for you to review. To narrow the selection, all voice talent is categorised by gender, type of recording for example radio or TV or Corporate video, and country.
The voices are all identified by numbers. Plus you'll see a brief description of each artist's style. It might describe the voice as "Warm, mature and confident" or "Strong, vibrant retail".
When you've narrowed the choice of which artist(s) you believe will be the best to hire STOP. Make an informed decision by asking for a free online quote and checking to make sure the talent is available to meet the production schedule.
Arrange a free demonstration
Finally to be a million percent sure of the choice you can request an Audio Recording Sample, in other words, a "free demo"
Media Group NZ will arrange the voice over you are going to hire to read a short extract from one of your scripts. When complete a link will be sent for you to go online and review the free demo.
It couldn't be any easier. In fact, it's foolproof and you won't even wet your feet! Dive into www.mediagroup.co.nz
Tags: Audio Samples, Audio Recording Standards, Digital Audio Basics, What Is Audio Sample Rate, Audio Recording Script Sample, Digital Audio Fundamentals, Film Sound Recording, Ample Rate Do Pro Studios Use
---
Comments